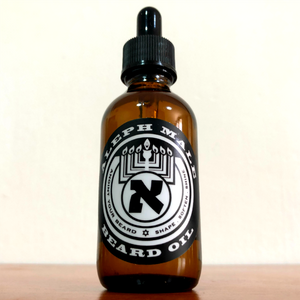 Yesod (unscented) Beard Oil
Regular price $ 32.00 USD $ 26.00 USD Sale


Yesod is our unscented beard oil. Yesod means 'foundation' in Hebrew and this is the great stuff we use in all our beard oil.
 Use Aleph Male Beard Oil to:
Coat and moisturize each hair of your beard with

 


super healthy beard ingredients

Relax your beard 

Make your beard hair more manageable and easy to untangle

Bring your beard hair into alignment

Moisturizes the skin underneath your beard
We have made some changes to our packaging, shipping, and recipe, read more here.

Aleph Male Product Inspiration:
Did you know? According to Jewish spirituality when you wear a beard, you open the gates of blessing. The beard is one of the hallmarks of Jewish sacred masculinity. Thousands of years ago the Hebrew Bible describes how the ancient Israelites would anoint priests and kings with sacred oils. In Psalm133 King David refers to the 'goodly oil' that 'runs down the beard' of Aaron the High Priest.
Also, the Aleph (א) is the first letter of the Hebrew alphabet and symbolizes Unity and creativity. An Aleph Male is a man, a mensch, who tunes his spirit to his highest self and Aleph Male beard care is here to tune your beard to a higher level of majesty. Handmade from 100% natural ingredients including oils and beeswax from Eretz Yisrael (the Land of Israel) Aleph Male makes your beard look kingly, feel fresh and soft, and smell amazing.
More Information:
1 

oz bottle with dropper

Made to last 1 month with daily use
Ingredients:
Olive Oil (sourced in Israel), Almond Oil (sourced in Israel), and Vitamin-E Oil.
Yesod Beard Oil Delivers
The Yesod beard oil helped my beard stay soft and alive upon applying it.
Yesod is spot on
This is best oil I've used. Fantastic scent.
Very very satisfied (and so is my wife)
:)
שמן יסוד ללא ריח
קליל לימים שרוצים לשים גם בושם
אחלה שמן