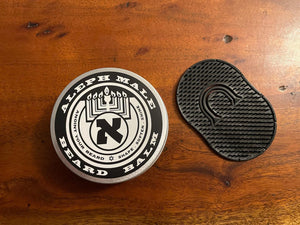 Aleph Male Sefirat HaOmer Kit - PreSale
Regular price $ 64.00 USD Sale
The 49 days of beard growth that start after the Passover holiday deserve some special love. Your exclusive Sefirat HaOmer beard kit includes an exclusive Aleph Male XL Beard Balm tin (100ml container) as well as special beard grooming treasure - an 'Uzi' mini beard brush. I discovered these in market in Jerusalem and they are awesome. This brush is small enough to easily fit in your pocket but packs a lot of beard grooming power. 
The Sefirat HaOmer blend is going to be a new formulation for this special time. 

It also will give you access to the Aleph Male Sefirat HaOmer Facebook group where we go deep into maximizing the 49 days both in terms of your beard and spiritual growth. 
Until Passover, you can get a buy one get one free. The cost is $64 and included free ECOPost shipping from Israel.