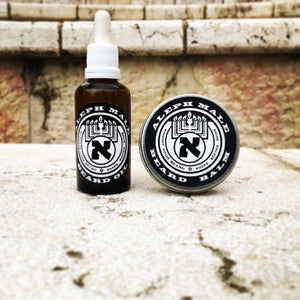 Make Your Own Aleph Male Beard Balm + Oil Combo 🔥
Regular price $ 64.00 USD $ 50.00 USD Sale
Activate the dynamic duo of Aleph Male Beard Oil plus Aleph Male Beard Balm for a full majestic beard revelation.

The conditioning power of Aleph Male Beard Oil combined with the shaping power Aleph Male Beard Balm takes the look and smell of a beard to a new level.
All Aleph Male Beard Balms are handmade in Jerusalem with 100% natural ingredients and make your beard look neater, sharper and majestic (much better than scraggly bristling and unkempt). They also moisturize and soften the hair and skin underneath. 
Beard Balm Ingredients: Coconut Oil, Shea Butter, Bees Wax (sourced in Israel), Olive Oil (sourced in Israel), Vitamin -E Oil, Jojoba Oil and essential oils. 
Beard Oil Ingredients: Olive Oil (sourced in Israel), Almond Oil (sourced in Israel), Vitamin-E Oil, and essential oils.  
Great Conditioning & Complete, Invisible Control
Most I've tried in the past provide excellent conditioning. AlephMale is the ONLY one that provides full control, invisibility and a great choice of scents. Although the price is nominally higher, AlephMale balm and oil are so heavily concentrated that you need far less. See before and after pictures.
Great stuff
I've been using my aleph make beard balm and oil semi-regularly since I bought it. They feel great on my beard and skin, though the scents don't go very well together, but that's my fault. There are just so many enticing scents to choose from
Beard balm and oil Combo
Aleph Male has the best products hands down. The quality, the scent, the effect of the balms and oils are second to none! Highly recommended!
Alive and growing
I routinely put the Aleph Male oil on my beard every morning after showering and I feel that my beard comes alive. Later in the day, I apply the balm and it gives my beard a healthy full look to it.
Havdalah, Havdalah, Havdalah!
I love the cinnamon & cloves scent of the Havdalah beard products! Now I have it in the oil AND the balm, reinforcing each other's spiciness! Will definitely be doing this again when I run low!